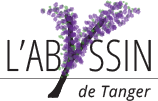 Welcome
to our guest house
« Sweet dreams »… L'Abyssin de Tanger is a palace, nestled in the heart of the Kasbah, that old city where each step leads to the history of Morocco. It is an ancestral abode, carefully restored by David and Odile, its owners, awestruck by the mysteries of Tangier. Here everything is redolent of calm; well-being. This guest house offers hospitality and pleasure as a foregone conclusion. By the kindness and attentiveness of the staff and the hosts. By the unique décor and the artwork peppering its walls. By the stillness at its core. By the energy and the unwinding one can experience thanks to the hammam and the indoor pool. By the comfort and warmth of its rooms. By a spaciousness so respectful of one's privacy. L'Abyssin of Tangier is an invitation to travel towards the Other … and towards Oneself.
Check the house
The most authentic
rooms for a great comfort
<
1200
dhs / night

The Oriental Room

It is Arabian and voluptuous. Its hues range between bright blues and garnets, and it is snuggled up next to a living room where carpets, enormous pillows and artwork are an invitation to idleness. King-size bed + Single added bed - bath

1000
dhs / night

The Queen of Shebaa

This room appeases and gives one's imagination free rein. It is bedecked in the yellow of Laotian monks; its furnishings are evocative of Africa. It opens onto a patio, calm and sheltering, adorned with trees and fountains where it is delightful to read, dream or simply doze. Double bed - bath

1500
dhs / night

The Berber Room

Room in delicate shades of blue, grey and black softening the brightness bathing it throughout the day. It offers a captivating view of the Bay of Tangier that can be admired from the bed as one wakes, or that can be savoured from an adjoining private patio. King-size bed - bath

1800
dhs / night

The Sultan Room

This is a suite that boasts a boudoir, a spacious and nearly monastic bedroom as well as a bath in a magnificent grey Tadelakt.It has a secluded patio making it all the more attractive. King-size bed - bath

600
dhs / night

The Chefchaouen Room

This room is vibrant, bracing and joyful in its palette of blues obtained through a savvy mixture of pigments from Chaouen and thanks to modern works created on site by a young artist from Tangier. Double bed
>
Wellness and relaxation
in our treatment area
This bejeweled, serene space was created to be a place of pure bliss.The indoor, heated pool,a massage salon,a hammam : the decor evokes the splendors and delicate charm of the Orient. It is here where the body and the spirit, shaken by a life that is often far too hectic, can gently heal. Thanks to certifiably natural Moroccan beauty products ( after a preliminary consultation with a pharmacist specialized in cosmetology ) and the expertise of the massage therapists ,the lavish treatments (hammam, deep-cleansing skin care, facials, massages) comfort and aid those who enter this place dedicated to caring for oneself to regain a healthful energy.
Check the care services
Book your room right now
You can use the form below to make your reservation
Guest book :
our guests leave their comments
<
"We would like to check for availability for 3 women for a hamman + gommage tomorrow 13th June in the afternoon? Thanks Maja

"Bonsoir, Je souhaiterai savoir combien coûte le fait de venir dans votre Hammam et également de se faire masser. Nous sommes deux amies et cela serait pour demain. Un grand merci Cordialement Sarah Fontaneau

"Bonjour, j'aimerai avoir une hammam chez vous, est il possible le 27 mai? merci

"Bonjour, serait-il possible de réserver des soins dans votre spa ? Nous souhaiterions réserver pour un hamman , gommage, massage, nous sommes 2.merci de m'envoyer vos tarifs et vos disponibilités.

"Bonjour Je serais bientôt en vacance à tanger. Est il possible de profiter de votre spa sans séjourner à votre hôtel ? Qu'elle sont les tarifs du Hamam piscine et soins? merciiii

"Bonsoir, Je fais partie du groupe qui a reserve 2 chambres doubles et 1 chambres individuelle ay nom de Almudena pour les nuites du 8 et 9 mars 2019 ( depart 10/03/19) Nous souhaitons ajouter une autre chambre double. Nous sommes finalement 7 persones. Merci de votre confirmation cordialement,

"Nous avons passé un délicieux séjour à l'Abyssin. C'est un endroit vraiment magique, un havre de paix dans cette ville aux milles facettes. Le seul inconvénient: une fois qu'on s'y est installé, il est très difficile d'en repartir! Merci pour votre accueil chaleureux. Charlotte et Célia.

"Hi, I am looking for information on your hammam options. We are a couple staying near you on rue de kasbah. Do you have availability tomorrow?

"Bonjour Odile et David, ce petit mot pour vous dire combien nous avons apprécié notre séjour à l'Abyssin, quel bel endroit, vue magnifique et bravo d'avoir réussi à créer un univers aussi calme et chaleureux. Spa formidable, bref ce séjour a été un véritable plaisir. Merci encore, Helene & Hubert

"Bonjour, pouvez vous nous confirmer vos tarifs et disponibilités pour 3 nuits du 4 au 7 octobre 2018, nous sommes 8 personnes du 4 au 7 octobre 2018. nous vous remercions, bien cordialement

"Un magnifique hamman avec d'excellents soins,un ambiance calme, un accueil chaleureux de notre hôtesse Odille, J'en garde d'excellents souvenirs et c'est sûre que je vais y retourner. Merci Odille et au plaisir

"Bonjour Je serais bientôt en vacance à tanger. Est il possible de profiter de votre spa sans séjourner à votre hôtel ? Est ce que c'est mixte? Où est il possible de privatiser? Qu'elle sont les tarifs du Hamam piscine et soins? Cordialement

"Bonjour, je viens à Tanger dimanche jusqu à mercredi avec mon mari. Est il possible de bénéficier du hammam et de soins même si nous ne sommes pas résidents de votre hotel? Si c est possible quels sont les tarifs et les horaires d ouverture. Merci beaucoup. Cordialement. Sabine.

"Bonsoir Je suis a tanger quelques jours avec ma famille et nous souhaitons faire un hammam serait il possible que vous m'envoyez vos tarifs ? En vous remerciant Noemie

"Bonjour, Je voulais savoir s'il était possible de privatiser l'espace piscine pour deux personnes ? Si oui, à quel prix ? Merci pour votre réponse, Fiorella Basdereff

"Bonjour Est il possible d'avoir plus d'informations sur les massages que vous proposez pour les couples ? Aussi je souhaiterai savoir si l'espace piscine peut être privatisé pour une heure ? Merci pour votre réponse

"bonjour, je voudrais savoir s'il est possible de privatiser pour quelques heures l'espace piscine pour une famille de 6 personnes si oui a quel tarif merci cordialement samir

"Hello, Is breakfast included or if not, available? Is access to the swimming pool complementary? What is the pricing for massages and the spa? Thank you in advance, B. Campos

"Bonjour, Je viens fin février passer quelques jours à Tanger. Je suis intéressée par vos prestations de soin. Auriez-vous une grille tarifaire à me faire parvenir? Merci par avance.

"Ciao Odile, siamo Manuela e Fabio e siamo stati vostri ospiti nell'hammam. É stata una splendida esperienza e volevamo ringraziarvi per la calda ospitalità. Pensiamo che chiunque venga a Tangeri debba passare da voi, per noi il ricordo di Tangeri si lega a voi. Grazie e, speriamo, a presto

"Hi Odile, This is Marni, I was there for some spa treatments last week! I just wanted you to know that was the most amazing experience and you have created such a tranquilly stunning spot, so thank you so much!!!
>
You can use the form below to describe your stay in our house :
Need more information?
Contact us
Here is our contact information :
L'Abyssin de Tanger
22 Rue Tenaker Kasbah
90 000 Tanger, Maroc
t. +212 (0) 539 93 28 17
e. contact [at] labyssindetanger.com
Localise us on Google Maps
or use the form below :