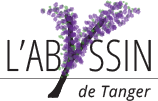 Welcome
to our guest house
« Sweet dreams »… L'Abyssin de Tanger is a palace, nestled in the heart of the Kasbah, that old city where each step leads to the history of Morocco. It is an ancestral abode, carefully restored by David and Odile, its owners, awestruck by the mysteries of Tangier. Here everything is redolent of calm; well-being. This guest house offers hospitality and pleasure as a foregone conclusion. By the kindness and attentiveness of the staff and the hosts. By the unique décor and the artwork peppering its walls. By the stillness at its core. By the energy and the unwinding one can experience thanks to the hammam and the indoor pool. By the comfort and warmth of its rooms. By a spaciousness so respectful of one's privacy. L'Abyssin of Tangier is an invitation to travel towards the Other … and towards Oneself.
Check the house
The most authentic
rooms for a great comfort
<
1200
dhs / night

The Oriental Room

It is Arabian and voluptuous. Its hues range between bright blues and garnets, and it is snuggled up next to a living room where carpets, enormous pillows and artwork are an invitation to idleness. King-size bed + Single added bed - bath

1000
dhs / night

The Queen of Shebaa

This room appeases and gives one's imagination free rein. It is bedecked in the yellow of Laotian monks; its furnishings are evocative of Africa. It opens onto a patio, calm and sheltering, adorned with trees and fountains where it is delightful to read, dream or simply doze. Double bed - bath

1500
dhs / night

The Berber Room

Room in delicate shades of blue, grey and black softening the brightness bathing it throughout the day. It offers a captivating view of the Bay of Tangier that can be admired from the bed as one wakes, or that can be savoured from an adjoining private patio. King-size bed - bath

1800
dhs / night

The Sultan Room

This is a suite that boasts a boudoir, a spacious and nearly monastic bedroom as well as a bath in a magnificent grey Tadelakt.It has a secluded patio making it all the more attractive. King-size bed - bath

600
dhs / night

The Chefchaouen Room

This room is vibrant, bracing and joyful in its palette of blues obtained through a savvy mixture of pigments from Chaouen and thanks to modern works created on site by a young artist from Tangier. Double bed
>
Wellness and relaxation
in our treatment area
This bejeweled, serene space was created to be a place of pure bliss.The indoor, heated pool,a massage salon,a hammam : the decor evokes the splendors and delicate charm of the Orient. It is here where the body and the spirit, shaken by a life that is often far too hectic, can gently heal. Thanks to certifiably natural Moroccan beauty products ( after a preliminary consultation with a pharmacist specialized in cosmetology ) and the expertise of the massage therapists ,the lavish treatments (hammam, deep-cleansing skin care, facials, massages) comfort and aid those who enter this place dedicated to caring for oneself to regain a healthful energy.
Check the care services
Book your room right now
You can use the form below to make your reservation
Guest book :
our guests leave their comments
You can use the form below to describe your stay in our house :
Need more information?
Contact us
Here is our contact information :
L'Abyssin de Tanger
22 Rue Tenaker Kasbah
90 000 Tanger, Maroc
t. +212 (0) 539 93 28 17
e. contact [at] abyssindetanger.com
Localise us on Google Maps
or use the form below :